| | |
| --- | --- |
| | Kettering Concerts |
About Us
The Kettering Concerts began in 2004 by a small group of chamber music lovers that felt there were not enough chamber concerts in the Hobart and south area. The Kettering Hall was once a serious echo chamber, but in 2003 Kingborough Council arranged for acoustic control material to be put on the walls. This was so effective it was realised by a small group of "locals" that the Hall could serve as a concert venue.
Early Days
Finding a group prepared to give the first concert proved to be difficult. The venue was untried, there was no certainty there would be an audience, and there was no money to guarantee the musicians would be paid anything. Eventually a trio led by Christian Wojtowicz agreed to give a concert. Then the question of how to attract an audience demanded attention. On Sunday 2nd May 2004, despite howling wind and sleet, an audience did appear, the music was wonderful, the afternoon tea very popular with audience and musicians, and a frequently posed question was "When is the next one?". It seemed a concert series had begun!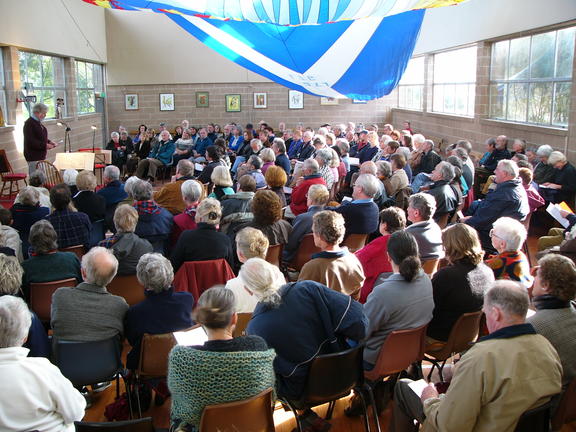 The first audience
Organisation
The Concerts are run by a group of volunteers centred around Kettering. The Concerts are not-for-profit. Our expenses are limited almost only to the Hall rental, and the occasional piano tuning.
Incorporation
Kettering Concerts Inc. was incorporated under the Associations Incorporation Act 1964 of Tasmania, commencing 23 September 2016, Incorporation Number IA11954. It has ABN 23 117 180 312. It is registered with the ACNC effective 17 March 2022.
---