| | |
| --- | --- |
| | Kettering Concerts |
Next Concert
Francesca Khalifa
Francesca Khalifa
Piano Recital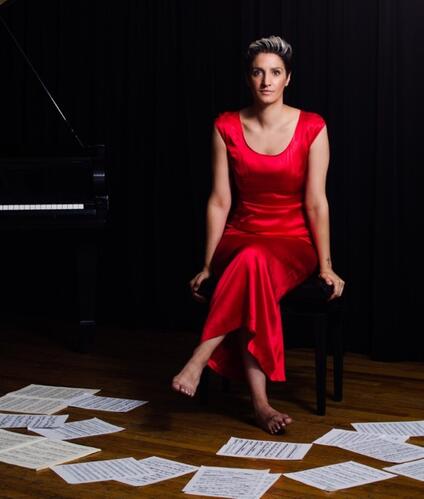 Programme:
Fantasia in C minor, K. 475 – Wolfgang A. Mozart (1756-1791)
Piano Sonata No. 14 in C minor, K. 457, – Wolfgang A. Mozart (1756-1791)
Piano Sonata No. 30 in E major, Op. 109 – Ludwig van Beethoven (1770-1827)
Ballade No. 3 in A♭ major, Op. 47 – Frédéric Chopin (1810-1849)
Danse Macabre Op. 40 – Camille Saint-Saëns (1835-1921) (arr. Franz Liszt (S.555))
Tocata and fugue in D minor – Tocata – Alfredo Diez Nieto (1918-2021)
Sunday 5 March 2023, 3pm
Kettering Community Hall
Tickets will be available on-line

Francesca Khalifa
The Italian- Egyptian pianist Francesca Khalifa was the winner of the Ferrara International Piano Festival in 2014, awarded by renowned pianist and musicologist Paul Badura-Skoda. Highlights of recent seasons include concerts as soloist with the Amadeus Orchestra in New York City, the Cairo Symphony Orchestra in Egypt, the Orchestra Filarmonica Pozzoli in Milan, a solo appearance at Steinway Hall New York City, chamber music concerts with OSJ La Verdi Chamber Orchestra in New York City, solo recitals in China (Harbin Concert Hall) and Cuba (Oficina del Historiador).
An active soloist and chamber musician, Khalifa has performed extensively in Europe and in the United States. The Italian pianist has been a guest artist for master classes and lectures at Pino Torinese Master Classes (IT), the School of Performing Arts of Virginia Tech University, the University of Central Florida School of Music in Orlando, the E. Said Conservatory in Jerusalem. ​As soloist, Khalifa has also collaborated with the Guido d'Arezzo Symphony Orchestra (Italy), the Oosterkerk Festival Chamber Orchestra (The Netherlands) and the MET Opera Orchestra string quartet in the performance of Mozart's piano concertos (New York City). The pianist has served as Adjunct Instructor at NYU Steinhardt and at the Piano Faculty at the Greenwich House Music School (New York City), as well as Teaching Assistant at USF Tampa, where she also received the President's Trio Fellowship for piano trio. ​Khalifa is a recipient of the City Artist Corps Grant 2021 and top prize winner in the Schio International Piano Competition Alink-Argerich Foundation, the Premio Loreto Lancia International Piano Competition, and the N. van Westerhout International Piano Competition.
Khalifa's mentors are the Cuban pianist and pedagogue Germán Diez (1924-2014) and pianist Ena Bronstein-Barton, both former pupils of Claudio Arrau. Her research on Germán Diez is the base of the documentary Piano Lessons, which received the official endorsement of the American Liszt Society. The movie premiered on 15th October 2021 at the University of Michigan during the ALS Annual Festival and has also been officially selected at the Silicon Beach Film Festival 2021 (US), the XXXIX Turin Film Festival 2021 (IT), and FlickFair Film Festival 2022. The movie is currently available on TubiTv and Amazon Prime Video. The complete pianist's research into the piano legacy of Claudio Arrau will be published in January 2023 for Cultural Bridge and distributed on Amazon. Khalifa was the founder and Artistic Director of the community classical concerts series,  "Classical Thursdays", at the Brooklyn Centre for the Arts from 2016 to 2018 and is the founder and Artistic Director of the Beethoven Fest New York City, a fiscally sponsored project of the New York Foundation for the Arts. Francesca is co-founder and Artistic Director of EXTENSITY Concert Series, whose mission is to contribute to the disruption of gender, racial and cultural inequity in the classical music world. Khalifa is an active member of the Music Workers Alliance, which she represented as speaker in the Creator Conference 2022, in collaboration with the Science Fiction and Fantasy Writers of America Inc., and the American Society of Media Photographers, focused on discussing the most pressing issues artists encounter in the market and what are current initiatives aiming to improve artists' conditions.

Halina Donarska – Artist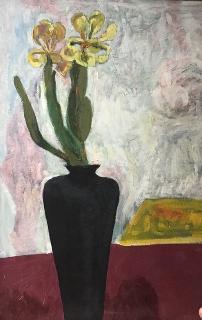 Born in Poland in 1931, Halina Donarska, obtained a Masters degree in Poland, and worked for several years as a photographer, before migrating to Australia in 1966. She was employed in a large photographer's studio in Sydney before moving to Tasmania due to ill health.
In Hobart she discovered oil painting and finally realized her childhood dream to become an artist, using oil paints to interpret her view of the world. She joined art groups and residential schools in Tasmania and on the mainland where well-known artists such as Jan Senbergs, Frank Hodgskinson, Mirka Mora and Jeff Makin,as well as her friend Max Angus, taught her. Halina was one of the founding members of the Tasmanian Abstract and Contemporary Artists organization which formed in 1985. She had a joint exhibition with Patricia Gilles.
Her individual approach is characterized by vibrant colors whether she paints the landscape outdoors or an indoor still life; they show reflections of her early memories and traditions of her homeland Poland, and her love of the country side. Halina Donarska has had several solo and group exhibitions in Australia as well as a solo show in Canada.


Email announcements
Kettering Concerts provide an email announcement list which will alert you to future concerts. To subscribe to this list, visit the Kettering Concerts email list web site.
---