| | |
| --- | --- |
| | Kettering Concerts |
Kettering Concert 2023-04-23
Bliss Quintet
Dinah Woods (Oboe), Miranda Carson (Violin), Frances Davies (Violin), William Newbery (Viola), Martin Penicka (Cello)
An Afternoon of Bliss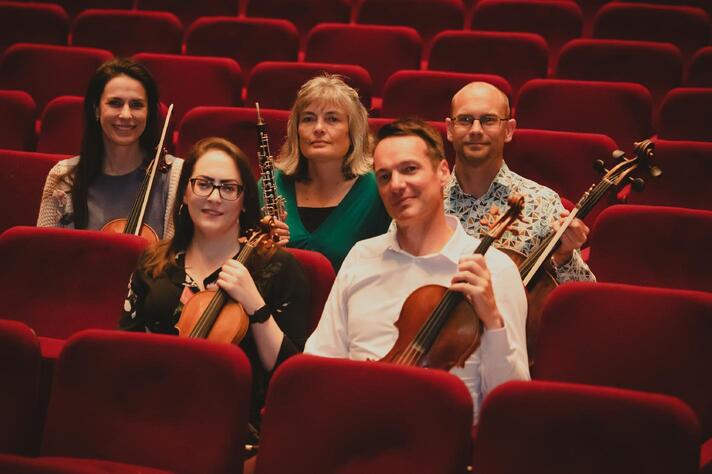 Programme:
Quintet for oboe and string quartet – Arthur Edward Drummond Bliss (1891-1975) ()
Quartet for recorder, oboe, violin and continuo in F major TWV 43:G6 – Georg Philipp Telemann (1681-1767)
String Quartet in D major, Op. 18, No. 3, – Ludwig van Beethoven (1770-1827)
Sunday 23 April 2023, 3pm
Kettering Community Hall
Tickets will be available
on-line
or at the door.
$15
Stay for the post-concert afternoon tea, meet and chat with the musicians.
Dinah Woods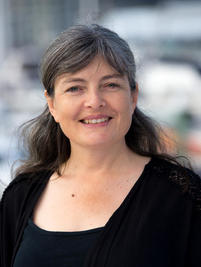 Dinah Woods has been a member of the Tasmanian Symphony Orchestra since 2001, holding the position of 2nd oboe/Principal Cor Anglais. Previous to this Dinah was in Melbourne where she studied at the Victorian College of the Arts and subsequently performed with many orchestras, including the Australian Pops Orchestra, the State Orchestra and the Melbourne Symphony Orchestra. Since joining the TSO, along with her orchestral work, Dinah has performed concertos with the TSO and Hobart Chamber Orchestra as well as many chamber concerts with Virtuosi Tasmania, Elanee Ensemble and ABC Classic FM Sunday live programs.

Miranda Carson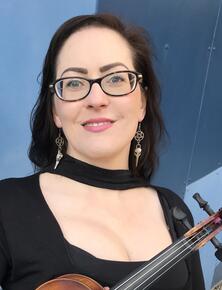 Brisbane born violinist Miranda Carson graduated from the University of Queensland studying with Spiros Rantos. Working with Orchestra Victoria in Melbourne before taking up a position with the Tasmanian Symphony Orchestra (TSO) in 2007, Miranda works continuously in a diverse range of solo and chamber music projects throughout Tasmania. Performances in 2022 included appearing as soloist with the TSO and the Hobart Chamber Orchestra, performing Saint-Saëns' Introduction and Rondo Capriccioso. Miranda was again invited to perform the solo of Piazzolla's Invierno Porteno the the TSO for their Obscura concert series. In 2023 she will premiere the Violin Concertino composed for her by young composer Georgia Scott, to be performed in September with the TSO.

Frances Davies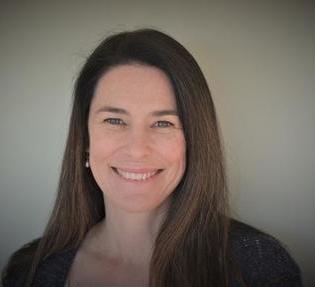 Frances Davies has a Bachelor of Music in Performance from ANU-ITA, and she both performs and teaches the violin professionally. She has been performing with professional symphony orchestras since 2000, including the Tasmanian Symphony Orchestra, the Adelaide Symphony Orchestra, and the West Australian Symphony Orchestra, and has also performed regularly with the Australian Ballet and State Opera South Australia. Further, she has performed with various international artists, both classical and popular music, including Pavarotti, Sumi Jo, Michael Buble, Olivia Newton John, Cliff Richard, Kanye West and Tim Minchin. In addition, she has also performed in numerous chamber music concerts run by Virtuosi Tasmania, and the TSO Live Sessions concert series. Frances has been teaching the violin for approximately 25 years, as well as tutoring for many youth orchestra ensembles and music camps.

William Newbery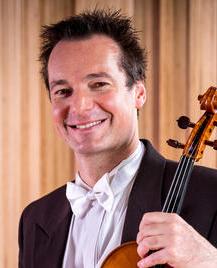 William returned to Adelaide from Cologne, Germany, in March 2005 having completed a Musik Diplom at the Hochschule für Musik Köln. His previous studies comprise the special music programme at Marryatville High School, a Bachelor of Music Degree with first class honours from the Elder Conservatorium and the Advanced Performance Programme at the Australian National Academy of Music.
William was a regular guest player with the Adelaide Symphony Orchestra from 1996 to 2007. He has also been a guest of the Tasmanian, Melbourne and Sydney Symphony Orchestras. He was the founding principal violist of the Adelaide Art Orchestra and has been broadcast on ABC FM playing a concerto for viola and computer. In 2007 William became a permanent member of the Tasmanian Symphony Orchestra.
Since joining the TSO William has been a regular performer for Virtuosi Tasmania and has also made a broadcast for ABC FM Sunday Live. He tutors viola for the Tasmanian Youth Orchestra and has also given chamber music performances for MONA FOMA and the Kegelstatt Ensemble in Adelaide.

Martin Penicka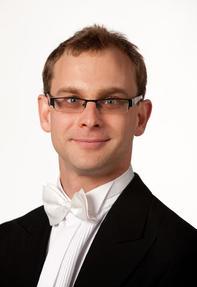 Martin studied with Lois Simpson and Julian Smiles at the Australian Institute of Music. He graduated in 2002 with the degree of Bachelor of Music (Performance) with first class honours. During his studies, he played in many chamber ensembles, most notably with the award-winning Con Brio Trio. In 1999 Martin Penicka took part in a tour to the USA organised by the Performing Arts Unit to complement the Art Express exhibition in the Corcoran Gallery, Washington DC.
A solo artist in the Symphony Australia Conducting Program in 2001, Martin Penicka has been a casual member of the Sydney Symphony Orchestra. He was a semi-finalist in the 2004 Symphony Australia Young Performers Awards and the 2MBS FM Young Performers Award. Martin Penicka has been an ANAM Academy Musician at the Australian National Academy of Music. In 2006 and 2007, Martin was involved in the Sydney Symphony fellowship program. Martin joined the TSO in August 2008.
Martin regularly plays in chamber music ensembles around Tasmania and has appeared on several ABC classic FM Sunday Live Broadcasts.

Justin Marshall – Artist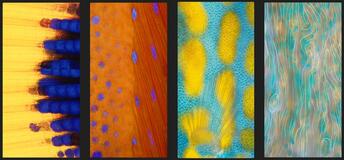 My work focusses on animal colours and vision. My science head asks "What do other animals (coral reef creatures mostly) see?" I have spent decades looking and looking at nature's beauty and asking what the colour was for? My art head seeks to show the wonder of nature's colour, texture shape-and-form. It is micro, or perhaps macro-scopic and often abstract, asking the viewer to work out where it is from? All that you see if for sale but other than covering printing costs, 100% goes back to nature education and re-wilding in all its contexts.


---