| | |
| --- | --- |
| | Kettering Concerts |
Kettering Concert 2019-03-03
Alchemy
Andrew Blanch (Classical Guitar), Ariel Nurhadi (Classical Guitar)
Guitar Duo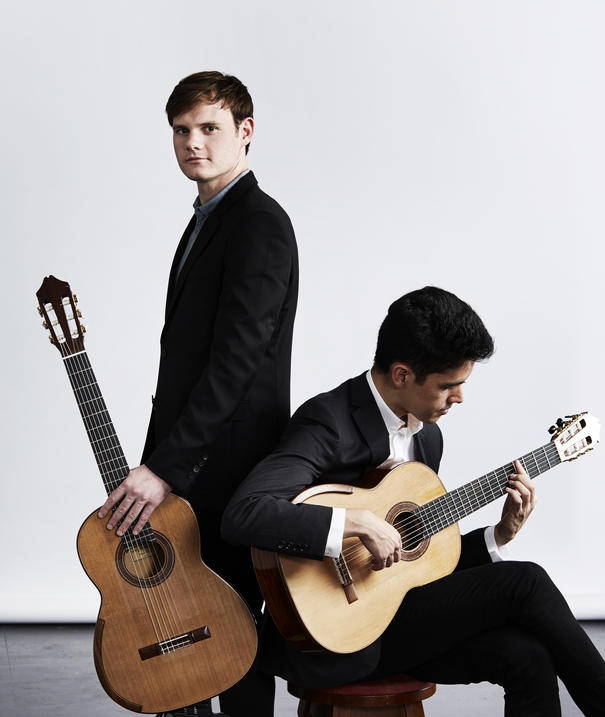 Programme:
Le Rappel des Oiseaux from Suite in E minor RCT2 – Jean-Phillipe Rameau (1683-1764)
Musette en rondeaux from Suite in E minor RCT2 – Jean-Phillipe Rameau (1683-1764)
Rigaudons I, II et double from Suite in E minor RCT2 – Jean-Phillipe Rameau (1683-1764)
Clair de Lune from Suite Bergamasque – Claude-Achille Debussy (1862-1918)
Golliwogs Cakewalk from Childrens Corner – Claude-Achille Debussy (1862-1918)
Evocation from Iberia Suite – Isaac Albéniz (1860-1909) (arr. Miguel Llobert)
La Vida Breve – Manuel de Falla (1876-1946) (arr. Emilio Pujol)
Lament, Alchemy from Three Duets for Classical Guitar – Phillip Houghton (1954-2017)
Monte Carlo – Peter Madlem (1945-)
Tango Suite for 2 guitars – Astor Pantaleón Piazzolla (1921-1992)
Sunday 3 March 2019, 3pm
Kettering Community Hall
Tickets available at the door
$15 (cash only)
Stay for the post-concert afternoon tea, meet and chat with the musicians.

Alchemy
Andrew Blanch and Ariel Nurhadi have been playing as a guitar duo since 2014. As a duo, they have been described as "two stunning young guitarists...virtuosic" (Sydney Arts Guide) and have been praised for their "dazzling guitar playing" (ArtsHub). Their performances have taken them around Eastern Australia, and they also collaborate with Australia's celebrated baritone Josè Carbò in a group called The Josè Carbò Trio. Their current duo project entitled `Alchemy', is named after the very first piece they learnt together, by the late great Australian guitarist and composer Phillip Houghton. Alchemy is something of a `world-tour', featuring some of the finest music written/arranged for guitar duet, with masterpieces from France, Spain, Brazil, Argentina, USA, and Australia, including Phil's acclaimed `Three Duets' that encapsulates Alchemy.

Andrew Blanch
Andrew Blanch is recognised as one of Australia's leading young classical guitarists. He made his solo recital debut at the Sydney Opera House in 2017 to critical acclaim and to date his career has taken him around the world. His debut CD Spanish Guitar Music "secured this young musician's place amongst a glittering Australian classical guitar constellation" (Limelight Magazine). In addition to his work with the The José Carbó Trio, Andrew's 2018 engagements include: concerto soloist in Nigel Westlake's Antarctica Suite with the Willoughby Symphony Orchestra conducted by the composer, invited artist to perform and adjudicate at the 3rd Biennial New Zealand Guitar Competition in Wellington, and a solo European tour including concerts in the UK, Italy and Spain, where he is a featured artist performing and giving masterclasses at the Festival Guitarra Maestro Joaquin Rodrigo. Andrew is a graduate of Timothy Kain's renowned guitar class at Australian National University and won ten major competition prizes including First Place in both the Melbourne International Guitar Competition (2016) and the Whitworth-Roach Classical Music Competition (2015). (www.andrewblanch.com)

Ariel Nurhadi
Melbourne-born Ariel Nurhadi is a Sydney-based classical guitarist. His diverse collaborations to date have included Llewellyn Quartet, an opera production of Dido and Aeneas, the clarinet-guitar ensemble Duo Divan and Canberra's 2015 Voices in the Forest with José Carbó and Diego Torre of Opera Australia. Ariel's first solo album will feature works by Federico Moreno-Torroba, Manuel Ponce, Joaquin Turina, Mario Castelnuovo-Tedesco, and Alexandre Tansman, as well as a collection of Catalan folksongs arranged by guitarist Miguel Llobet. Ariel's 2018 engagements include a tour of Australia with The Josè Carbò Trio, a tour of New Zealand with guitarist Andrew Blanch and Ariel will also adjudicate and perform at the 3rd Biennial New Zealand Guitar Competition, Wellington, New Zealand. Ariel is a graduate of Timothy Kain's renowned guitar class at the ANU, which he completed with first-class honours before being accepted into a PhD program under the auspices of the competitive Australian Postgraduate Award.

Chantale Delrue – Artist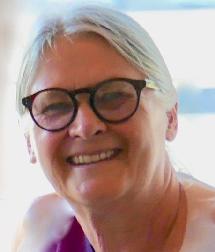 Multi disciplinary artist Chantale Delrue was born in Belgium where she studied sculpture and painting. She has lived in different parts of the world before settling in Tasmania in 1980. She was included on the Inaugural Tasmanian Honour Roll of Women for her contributions to the arts and in 2006 she received a Masters of Fine Arts from the University of Tasmania. Her work explores the intersection between notions of the natural and the inner world.


---