| | |
| --- | --- |
| | Kettering Concerts |
Kettering Concert 2018-08-19
Kingfisher Piano Trio
Kristian Chong (piano), Sue Collins (violin), Sue-Ellen Paulsen (cello)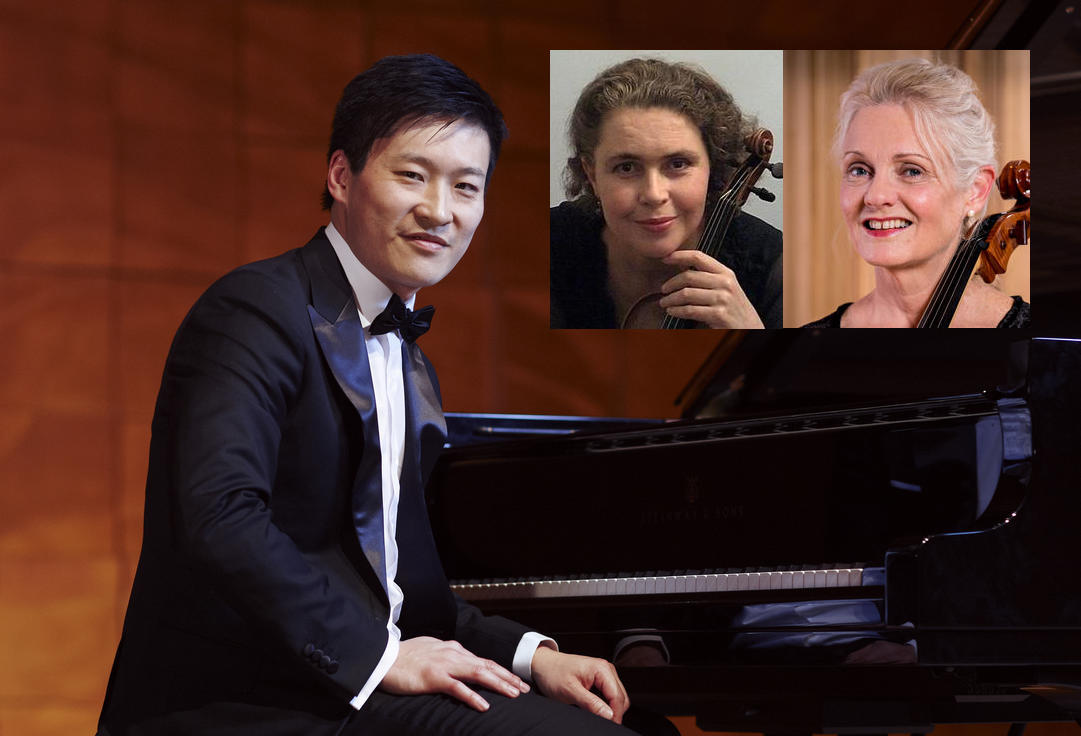 Programme:
Prelude in B minor – Johann Sebastian Bach (1685-1750) (arr. Alexander Siloti)
Rhapsody for Left Hand in B minor – Miriam Hyde (1913-2005) (arr. Noreen Stokes)
Prelude in B minor Op. 32 – Sergei Vasilyevich Rachmaninoff (1873-1943)
Duo for Violin and Cello Op. 7 – Zoltán Kodály (1882-1967)
Piano Trio in C minor Op. 1 No. 3 – Ludwig van Beethoven (1770-1827)
Sunday 19 August 2018, 3pm
Kettering Community Hall
Tickets available at the door
$15
Stay for the post-concert afternoon tea, meet and chat with the musicians.

Kingfisher Piano Trio
In 2004, cellist Sue-Ellen Paulsen and violinist Susan Collins, after having enjoyed working together with the TSO, began working together as a duo. In 2005 the collaboration was established with a performance in Hobart that was broadcast live as part of the ABC's Sunday Live series. They performed works by Martinu, Kodaly and Ryden. This performance was rebroadcast nationally with ABC FM, as part of the "Best of Sunday Live" segment.
Following this success, the duo approached the brilliant Australian pianist Duncan Gifford, resident in Madrid, to form the Kingfisher Piano Trio. In 2006, Kingfisher performed recitals in Sydney, Wollongong and Newcastle, and recorded a program for ABC FM. That year, the trio's repertoire included works by Mozart, Schumann and Shostakovich, as well as Australian composers Dunleavy, Schultz and Kats-Chernin. Since 2006, Kingfisher has performed regularly throughout Australia. In 2011, the trio released an ABC Classics recording of all three Schumann Piano Trios to critical acclaim. ...."What a profound delight this music is—and how terrific to hear it performed so wonderfully by these Australian musicians. The creativity, warmth, humanity and intelligence of the composer have been very well served in this recording. To play this music so successfully requires not just individually good players, but also a superlative ensemble, which is quite another thing. This is not just about technical proficiency, musicianship, and team-work—it also requires real intelligence, deep understanding, and a capability for collegial negotiation in the solving of real challenges and problems. The recording of all three of these trios together is a large undertaking, and the release of this work on ABC Classics brings Schumann's work into the 21st century with renewed vigour and relevance." Reviewed by Alistair Noble, April 1, 2015.
Kristian Chong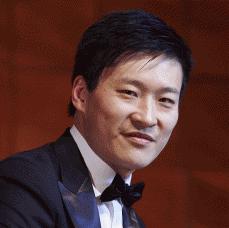 One of Australia's leading pianists, Kristian Chong has performed throughout Australia and the UK, and in China, France, New Zealand, Singapore, Hong Kong, Taiwan, USA, and Zimbabwe. His wide-ranging performance schedule finds him equally at home as concerto soloist, chamber musician and recitalist.  As concerto soloist he has appeared with the Adelaide, Melbourne, Queensland, Sydney and Tasmanian Symphony Orchestras, and orchestras in the UK, New Zealand and China with conductors such as Werner Andreas Albert, Andrey Boreyko, Nicholas Braithwaite, Jessica Cottis, Fabian Russell, Roy Goodman, Sebastian Lang-Lessing, Nicholas Milton, Benjamin Northey, Tuomas Hannikainen, Marcus Stenz, Arvo Volmer and Marco Zuccarini. Highlights have included Rachmaninoff 3rd with the Sydney Symphony, the Rachmaninoff Rhapsody on a theme by Paganini in Beijing and Canberra, and Britten with the Adelaide Symphony Orchestra. Recent concerto highlights include Shostakovich 2nd, Chopin 2nd, Rachmaninoff 3rd, Beethoven's Emperor in Melbourne, Ravel's Left Hand concerto in Melbourne (Australian Youth Orchestra) and Dunedin (Dunedin Symphony Orchestra) and Saint-Saëns 2nd concerto with the Melbourne Symphony Orchestra.
Described by The Age as 'a true chamber musician at work', Kristian is highly sought after with extensive collaborations with ensembles such as the Tinalley and Australian String Quartets, violinists Sophie Rowell, Natsuko Yoshimoto, cellist Li-Wei Qin, flautist Megan Sterling and baritone Teddy Tahu Rhodes, with whom he has recorded with ABC-Classics. Other collaborations include violinists Ilya Konovalov, (concertmaster Israel Philharmonic), Vadim Gluzman, Elizabeth Layton, Alexandre Da Costa, Adam Chalabi, Dale Barltrop, and Jack Liebeck, violists Christopher Moore and Caroline Henbest, clarinetists Michael Collins and Philip Arkinstall and the Orava Quartet amongst many others. His festival appearances include the Australian Festival of Chamber Music, Adelaide Festival, Huntington Estate Music Festival, Mimir Chamber Music Festival and the Bangalow Festival. Other recent solo and chamber highlights include the Xing Hai Festival in Guangzhou, Australian Music Week on Gulangyu Island (Xiamen) with the Melbourne Symphony, the Port Fairy Spring Music Festival, where Kristian performed the complete Rachmaninoff Preludes, piano trios and the Beethoven Triple Concerto with Yoshimoto and Qin, the complete Beethoven Piano & Violin Sonatas with Yoshimoto and Rowell at the Melbourne Recital Centre, and Beethoven's Hammerklavier Sonata.
Kristian studied at the Royal Academy of Music in London with Piers Lane and Christopher Elton, and earlier with Stephen McIntyre at the University of Melbourne where Kristian currently teaches piano and chamber music. His competition successes include the Symphony Australia Young Performers Award (keyboard) and the Australian National Piano Award.
Sue Collins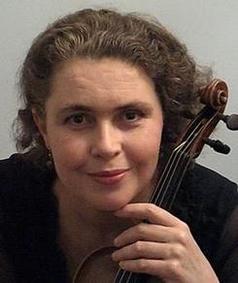 Sue Collins has appeared numerous times in the ABC's Sunday Live series. She has recorded many times for radio, and has performed as soloist and recitalist throughout Australia, the USA and Europe. She has recorded Raymond Hanson Violin Music (Tall Poppies) with David Miller, having completed reconstructive editions of the Hanson works, published by Reed Music. "...Susan plays these extraordinary scores with a remarkable sureness of touch, following even the most unexpected shifts in phrasing and expressive direction with micro-fine precision. Her warm, rich sound works wonders in bringing this music alive, enhanced by a generous, medium-paced vibrato and sensitivity to dynamic shading"... Julian Haylock, The Strad, May 2009.

At age 14, Susan performed Sarasate's Zigeunerweissen with the Sydney Symphony Orchestra under the baton of Patrick Thomas at the Sydney Opera House. Since that time, she has performed as concert soloist and recitalist throughout Australia, the USA and Europe. Susan has recorded many times for ABC FM, and many other radio stations in live performance broadcasts as well as studio recorded recitals and has appeared numerous times in the Australian Broadcasting Corporation's Sunday Live series, performing as recitalist as well as in duo and trio combinations with Kingfisher Trio. Her CD with Duncan Gifford and Sue-Ellen Paulsen of Schumann's complete Piano trios was released to critical acclaim by ABC Classics. More recently, Susan's CD recording with pianist Stephanie McCallum of the violin and Piano works for Fritz Hart 'We have waited a long time for recordings such as this and the wait has been worth it' (Jonathan Woolf, Musicweb International 2019) Having been appointed Deputy Concertmaster of the Australian Opera and Ballet Orchestra at the age of twenty-three, Susan has since been engaged as Concertmaster with many orchestras around Australia, performing under the baton of Bonynge, Macerras, Cillario, Hickox, Fiore, Young, de Waart and many other distinguished conductors. In 2003 Susan was awarded the Australian Centenary Medal for her work with Opera and Ballet, and in 2009 was awarded an Australian College of Educators award. Susan has held Head of Strings positions at the University of Tasmania and University of Newcastle conservatoria from 2006 until 2020. She is currently Music Director of the Riverina Summer School for Strings and Sounds of Summer festival, Adjunct Senior Lecturer at UTas, and teaches violin at Queensland Conservatorium. In recent years Susan has been featured in 'Synesthesia' and 'Dark Mofo' festivals presented by MONA and has recently been featured in Tasmania's 'Ten Days on the Island' festival. In addition to solo engagements, Susan Co-directs the Battery Point Twilight Series, and has enjoyed the opportunity to perform with Southern Cross Soloists, Sydney Soloists and Ensemble Q.

Sue-Ellen Paulsen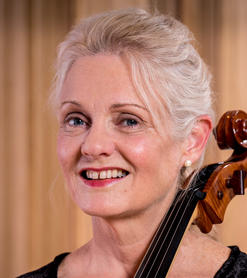 Sue-Ellen Paulsen studied at the Queensland Conservatorium of Music where she had lessons with Richard Dedecius. As an undergraduate, she appeared as soloist with the Queensland Symphony Orchestra, Queensland Conservatorium Orchestra and Queensland Youth Orchestra. In 1980, she won the ABC Concerto Competition (now the Young Performer Award) and was awarded a scholarship enabling her to pursue postgraduate study in Vienna with André Navarra. She assumed her current position as principal cellist, with the Tasmanian Symphony Orchestra in 1986. Since then she has been guest principal with the Sydney Symphony, Adelaide Symphony and Australian Chamber Orchestra. An experienced soloist, she has performed concertos by Shostakovich, Walton, Mills ad Ligeti among many others and is featured as soloist on several of the TSO's Australian Composer Series CDs. A strong advocate for contemporary music, she has commissioned and premièred many new Australian works including one written especially for her by Andrew Ford. She has recently recorded the Schumann piano trios with the Kingfisher Piano Trio (ABC Classics). She is lecturer in cello at the Tasmanian Conservatorium of Music.
Bob Brown – Artist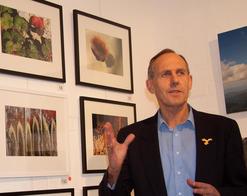 'If there was a parallel universe, I would be a photographer - with fancy cameras, filters and tripods, plus one of those metallic umbrellas to bounce light on the underside of the world. But I have a very ordinary Olympus OMD. My camera has always been a relaxer and always hand-held. Taking photographs is fun and diverts us from the cares of the world to its beauties. I just take what I see. And mostly of nature in its myriad of stunning moments, none ever to be repeated, all part of the unbelievable panoply of existence. Seeing my pictures will not match the real moments of joy any viewer has experienced in their own lives. Yet sharing them heightens my own joy of life.'


---