| | |
| --- | --- |
| | Kettering Concerts |
Kettering Concert 2016-11-20
Tasmanian Bass Quartet
Stuart Thomson (double bass), James Menzies (Double Bass), Matt McGrath (Double Bass), Aurora Henrich (Double Bass)
From Pirates to Nannies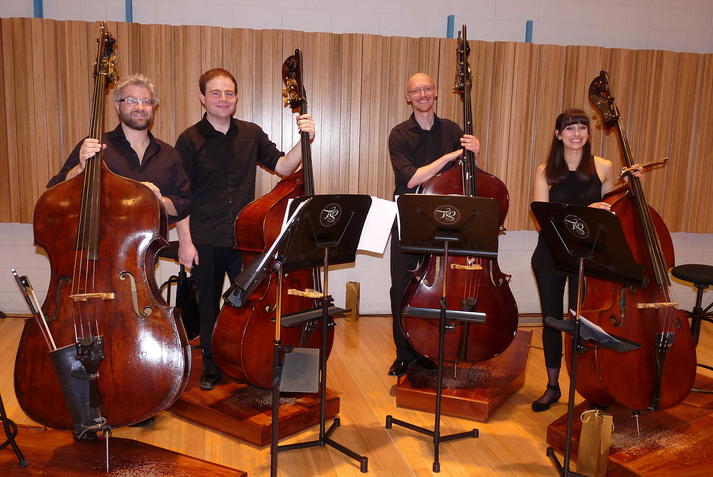 Programme:
Basses of the Caribbean – Pirates of the Caribbean – Klaus Badelt (arr. Ashley Frampton)
Quartet for double basses – Lauber Quartet – Joseph Lauber (1864-1952)
Mary Poppins Basses – Mary Poppins – Robert and Richard Sherman (1925-2012 1928 -) (arr. Ashley Frampton)
Georgia on my Mind – Georgia – Hoagy Carmichael (1889-1981) (arr. Ashley Frampton)
Dorothys Basses – The Wizard of Oz – Harold Arlen (1905-1986) (arr. Ashley Frampton)
Jungle Bits for Double Basses – Jungle Book – Robert and Richard Sherman (1925-2012 1928 -) (arr. Ashley Frampton)
Sunday 20 November 2016, 3pm
Kettering Community Hall
Tickets available at the door
$15
Stay for the post-concert afternoon tea, meet and chat with the musicians.

Tasmanian Bass Quartet
The members of the Double Bass section of the Tasmanian Symphony Orchestra formed the Tasmanian Bass Quartet in September 2016 with a premier concert to the TSO friends on Sunday 25 September. Having accumulated a lot of music for bass groups, the quartet were keen to try it out and have fun at the same time. The quartet includes Stuart Thomson, Principal Bass (TSO), James Menzies, Aurora Henrich, and Matt McGrath. The bass is severely under-represented in chamber music, and bass players need to be proactive if they want to be involved. Bass quartets provide the players with a unique situation whereby everyone has a turn at the bass line, the inner harmony parts and the melodic line. It takes them out of their comfort zone, giving each member a chance to shine (!). They take turns at playing the different parts so not one person is always on the top or the bottom. It is a lot of fun and they have grand plans to get involved in education concerts of some description and engineer some concert appearances.
Stuart Thomson
Born in Edinburgh, Stuart Thomson began playing the double bass at age nine and later joined the Hampshire County Youth Orchestra, which inspired him to become a professional musician. He studied with Duncan McTier and Corin Long at the Royal Northern College of Music (RNCM) in Manchester and was awarded the Eugene Cruft Prize for Double Bass. While at the RNCM he began working professionally with the Hallé, BBC Philharmonic and Royal Liverpool Philharmonic orchestras. Subsequent freelance work included engagements with the Scottish Chamber Orchestra, London Symphony, the Philharmonia Orchestra and the Philharmonische Werkstatt in Switzerland. In 1999 he joined the Hong Kong Philharmonic Orchestra and in 2001 moved to Australia to play with the Sydney Symphony. The following year he was appointed Associate Principal of The Queensland Orchestra and in late 2003 took up the post of Principal Double Bass with the Tasmanian Symphony Orchestra (TSO). He has also received invitations to guest as principal with the Adelaide and West Australian Symphony orchestras. In 2005 he made his solo debut with the TSO playing alongside Alex Henery in Bottesini's Passione Amorosa for two double basses. Then again in 2011 with Tubin's concerto for double bass and in 2015, he performed the Australian premiere of Tan Dun's Double bass concerto The Wolf. In December this year he will appear again as soloist with The Wolf and the TSO in Hobart and on the TSO's tour of China. An active chamber musician, he is a founding member and co-artistic director of the Elanée Ensemble focusing on music for viola and double bass. He also teaches at the Tasmanian Conservatorium of Music.
James Menzies
James started learning the bass at the age of 10 and went on to further his studies at the Sydney Conservatorium of Music with Alex Henery and Maxime Bibeau. Whilst studying, James gained extensive tutoring experience, including private teaching as well as holding regular tutorials for The Arts Unit and The Sydney Youth Orchestra ensembles. Since graduating, James has regularly performed with ensembles such as the Sydney Symphony, Australian Opera and Ballet, Auckland Philharmonia, New Zealand Symphony, West Australian Symphony and Sydney Sinfonia Orchestras. He has also participated in masterclasses and academies with some of the world's finest bass players including Matthew Macdonald (principal Berlin Philharmonic) and Christoph Wimmer (Vienna Philharmonic). James has been a member of the Tasmanian Symphony Orchestra since 2015.

Matt McGrath
American born double bassist, Matthew McGrath, is an active chamber and orchestral musician. A native of Colorado, he received his Bachelor of Music from Indiana University, Bloomington and a Master of Music from Carnegie Mellon University, Pittsburgh. Matthew has performed with numerous orchestras around the world including the Tasmanian Symphony Orchestra, New Zealand Symphony Orchestra, Orchestra Victoria, Seattle Symphony, Seattle Opera, Pittsburgh Symphony, Colorado Symphony, Utah Symphony, and many others. As a student Matthew performed for three years with the prestigious Verbier Festival Orchestra in Switzerland. Matthew currently lives in Hobart with his wife Emma and their two sons, Moses and Noah.

Aurora Henrich
Aurora began her music studies on the piano at age five. Flute lessons followed, but it was the double bass lessons (age eight) that Aurora enjoyed the most. In 2003, at the age of ten, she began studying with Alex Henery (SSO Principal Double Bass), and she received her Associate Diploma in Music in 2009. In 2012 Aurora began her tertiary studies at the Sydney Conservatorium, where she was awarded a Sydney University Entry Scholarship and the Kathleen E Armstrong Scholarship. Aurora is currently a member of the double bass section of the Tasmanian Symphony Orchestra and frequently performs as a casual musician with the Sydney Symphony Orchestra. She has also performed as Guest Associate Principal Double Bass with the Adelaide Symphony Orchestra. In 2014 she was awarded a fellowship with the Sydney Symphony Orchestra, and toured to China with the orchestra under David Robertson. The following year she toured with the orchestra again to China and Korea and was awarded a fellowship with the Australian Chamber Orchestra, which saw her tour throughout the country performing in the ACO2 chamber ensemble.
Aurora enjoys working and performing in a number of genres. She has toured internationally, performing as the soloist in the world premiere of James Humberstone's 'Miniature Concerto for Double Bass'.  Aurora has also performed on gut string bass with Sydney-based chamber group 'Salut baroque!' and worked on movie soundtracks for films such as The Lego Movie and Mad Max: Fury Road.

Elaine Lincolne – Artist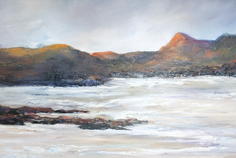 Elaine paints in oils and pastels, predominately landscapes but also some still lifes and portraits. She also likes to play with ceramics when she gets a chance.


---