| | |
| --- | --- |
| | Kettering Concerts |
Kettering Concert 2016-04-10
Huon String Quartet
Elinor Lea (violin), Rohana O (violin), Douglas Coghill (viola), Jane Tallon (cello)
Revolution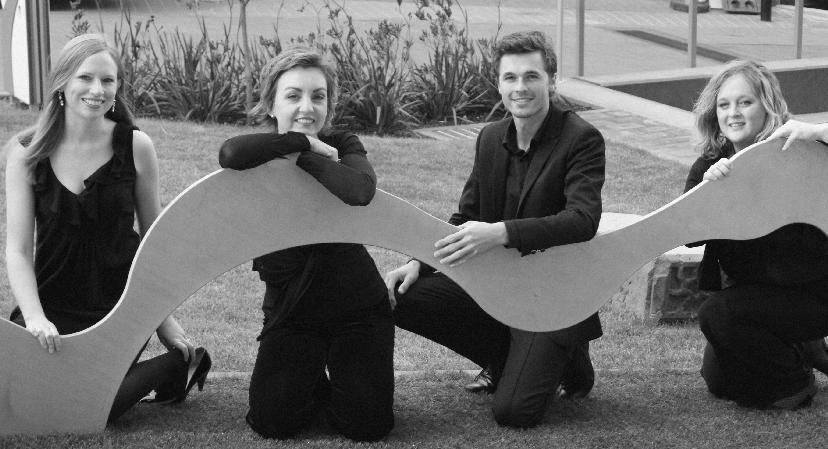 Programme:
Viderunt Omnes – Perotin The Great (c. 1200) (arr. Huon Quartet)
String Quartet No. 7 in F-sharp minor (Op. 108) – Dmitri Shostakovich (1906-1975)
String Quartet No. 7 in F major Op.59 No. 1 – Razumovsky – Ludwig van Beethoven (1770-1827)
Sunday 10 April 2016, 3pm
Kettering Community Hall
Tickets available at the door
$15
Stay for the post-concert afternoon tea, meet and chat with the musicians.

Huon String Quartet
Named after the picturesque Huon region of southern Tasmania, The Huon Quartet has become a much loved part of Tasmania's musical fabric. Since their formation in late 2012, they have performed concerts across Tasmania, broadcasted on ABC Classic FM Sunday Live, and recorded a CD of Debussy and Haydn String Quartets in collaboration with Virtuosi Tasmania. Their varied professional experiences have added to their great musical and personal rapport.
First violinist Elinor Lea was a member of the Australian String Quartet for nine years and brings her wealth of experience to the table. Cellist Jane Tallon also has much to offer. Jane was co-ordinator of Chamber Music and Lecturer at the VCA School of Music, from 2001 -2011. Rohana O'Malley (Violin) and Doug Coghill (Viola) are both Graduates from ANAM, the prestigious Australian National Academy of Music, and are now Hobart based, playing in the Tasmanian Symphony Orchestra. In 2017, Doug Coghill left the quartet, replaced by violist Anna Roach.
The Huon Quartet's playing has been described as "thrillingly suspenseful - painful in its beauty - with fantastic textural contrasts", by Limelight Magazine, 2015. For more information about the quartet's 2016 musical activities, visit Huonquartet.com.
Elinor Lea
Elinor Lea is a violinist in the Tasmanian Symphony Orchestra where she was the Associate Concertmaster for 15 years. At the age of 19, while studying at Adelaide University, she joined the Australian String Quartet and played with them for 9 years, touring extensively within Australia and annually to Europe, the USA and Canada. While in the ASQ she recorded many CDs for the ABC Classics and Naxos labels. 
 Since moving to Tasmania she has been soloist and concertmaster for the TSO, teaching privately and raising a family.
Douglas Coghill
Douglas Coghill began playing the violin at the age of 7 with the hope of one day playing the viola. At 12, when he was big enough, he made the change to the viola. In 2006 Douglas began studying at the Victorian College of the Arts. In 2007 he received the Brunner prize for the most improved string player. He was the 2008 winner of the John Gaitskell Memorial Mensa Trust Award. He completed his Bachelor of Music Performance degree in 2008. Following his Bachelor degree, Douglas began studies at Australia's leading music school, the Australian National Academy of Music (ANAM). At the academy he performed in the orchestra, in chamber ensembles and as a soloist. At ANAM Douglas had the opportunity to work with leading musicians from around the world.
In 2012 Douglas appeared as a soloist with the Australian Doctors Orchestra. He has worked with the Tasmanian Symphony Orchestra, the Melbourne Chamber Orchestra, and is a member of the "Opus House" ensemble based in Hobart. Douglas plays on a viola made by Felix Scheit who is based in Berlin.
Jane Tallon
Jane Tallon has been involved in music education and performance in Australia for the past 20 years. Jane studied with Gary Williams, Nelson Cooke and in Croatia with renowned teacher Valter Despalj and has worked as a soloist and chamber musician with various ensembles throughout Australia and overseas. A founding member of Melbourne chamber ensemble, the Bach Project, Jane's arrangement of Bach's iconic work, the 'Goldberg' variations was performed to acclaim by the Bach Project at the Barossa International Festival of Music. Jane also reviews and writes articles for the Music Council of Australia's Music Forum magazine.
Passionate about the performance and teaching of chamber music; Jane was co-ordinator of Chamber Music and Lecturer at the VCA School of Music, now the Melbourne Conservatorium of Music, Melbourne University from 2001 -2011 and in that time initiated chamber music series at 45 Downstairs and the National Gallery of Victoria, as well as being musical advisor for the Picasso Exhibition at the National Gallery of Victoria.
Now living in Hobart, Jane has most recently directed Brahms – Love, Life, Letters at the Hobart Town Hall; worked with the Tasmanian Symphony Orchestra and performed with Virtuosi Tasmania and Opus House. Jane is a founding member of the Huon String Quartet.
Ruth Sharkey – Artist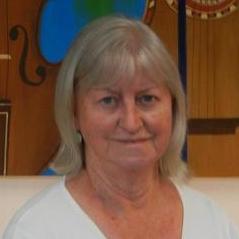 A retired Natural therapist/Author, Ruth is now honing skills obtained from The Brin Jones Academy of Fine Art using graphite and pastel and The Gold Coast Academy of Art with oils.
A regular exhibitor with CRAG, HAEG, Kingborough Lions Art Exhibitions, La Trobe Australia Day Exhibition, Clarence City Art Exhibition, Tasmanian Art Award at Esk and The Art Society of Tasmania's Lady Franklin Gallery, Lenah Valley. In July 2014 and February 2016, Ruth held two very successful solo exhibitions in Margate and at the Lady Franklin Gallery, Lenah Valley. She has also received a Highly Commended Award at the 130th Annual exhibition at the Lady Franklin Gallery.
---