| | |
| --- | --- |
| | Kettering Concerts |
Kettering Concert 2014-04-06
Loose Canon Chamber Singers
Stephanie Abercromby (director and piano), Rob Evans (baritone), Genevieve Stather (clarinet)
Vocal concert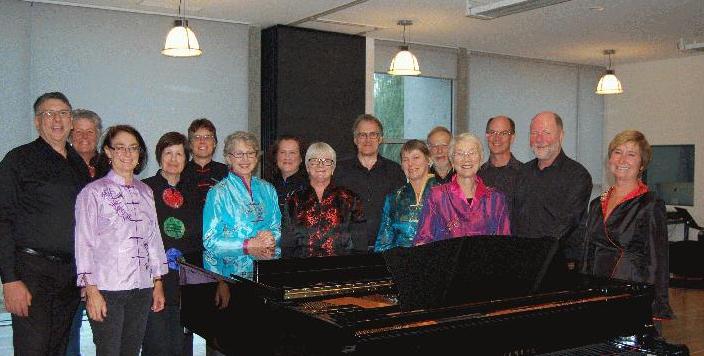 Programme:
Ecco Mormorar L'Onde (madrigal) – Claudio Giovanni Antonio Monteverdi (1567 -1643)
Moro Lasso (madrigal) – Carlo Gesualdo da Venosa (1566 -1613)
Sonno diletto e caro (madrigal) – Giovanni Gabrieli (c.1554/1557-1612)
5 Mystical Songs (Rob Evans soloist) – Ralph Vaughan Williams (1872-1958)
Sonata for Clarinet and Piano in E flat major, Op 167 – Camille Saint-Saëns (1835-1921)
Autumn Leaves – József Kosmo (1905 -1969)
All the things you are – Oscar Greeley Clendenning Hammerstein II (1895-1960) – Jerome Kern (1885-1945)
Le Baylere – Marie-Joseph Canteloube de Malaret (1879-1957)
Danny Boy (arr. Mark Hayes) – Frederic Edward Weatherly (1848-1929)
Sunday 6 April 2014, 3pm
Kettering Community Hall
Tickets available at the door
$10
Stay for the post-concert afternoon tea, meet and chat with the musicians.

Stephanie Abercromby
Stephanie Abercromby is a well-known musician in Hobart. She was educated at Perth Modern School on a music scholarship and continued her studies at the University of W.A., graduating with a Bachelor of Music. She was Senior repetiteur with the West Australian Opera Company, repetiteur for ABC opera concerts and appeared regularly as a soloist with the West Australian Symphony Orchestra. After winning the W.A. State final of the ABC concerto competition on piano, she received a West Australian Arts Council grant to study harpsichord with Colin Tilney in London. Stephanie teaches music at Hobart's Fahan School. She has sung with and directed the Jane Franklin Consort, and was repetiteur with the Tasmanian Symphony Orchestra Chorus before retiring in 2010. Stephanie was also director of the Tasmanian Chorale from 2005 to 2010 and in her spare time she is a keen bonsai enthusiast and sailor.
Genevieve Stather
Genevieve has been playing clarinet for more than 7 years and completed her AMEB Grade 7 examination with distinction. Last year she had the opportunity to play at Government House in a Music Teachers Association concert of students. Genevieve has been successfully playing solos in the City of Hobart Eisteddfod for four years and last year won the Joseph Ortuso Award for the most outstanding woodwind performer, receiving an invitation to play in the City of Hobart Prizewinners concert. She has also been a member of the Tasmanian Youth Orchestra for more than four years, including involvement in three collaborations of the Tasmanian Youth Orchestra with the Tasmanian Symphony Orchestra. As well as her performing on the clarinet, Genevieve has performed in musical theatre and has been in concerts with the Hobart Dance Academy since she was five.
Lesley Gould – Artist
---