| | |
| --- | --- |
| | Kettering Concerts |
Kettering Concert 2011-11-27
Fortéfied
Anna Donnelly (soprano, also Can Belto), Sue Leschen (soprano), Claire Minnucci (soprano), Siobhan Harpur (soprano/alto), Wendy Doelle (alto), Jill Thiele (alto), Wilma Johnson (alto, also Can Belto), Jim McCormack (tenor), Doug Francis (baritone, also Can Belto), Christian Carson (bass, also Can Belto), Dave Robson (bass)
Fortéfied Singing for Deepak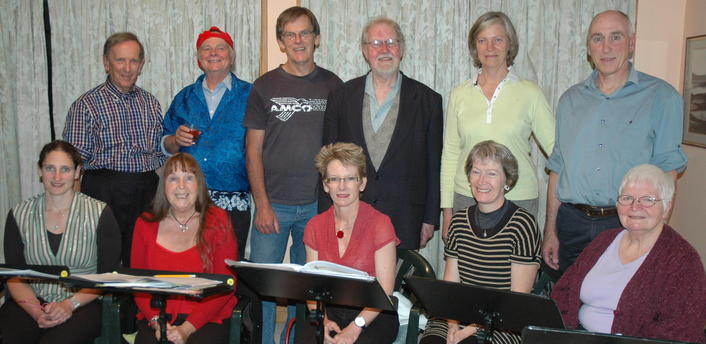 Fortéfied is a small group of enthusiastic singers led by John Allason.
The programme of madrigals, jazz, swing and Christmas songs in this concert was in support of young Deepak, a seriously disadvantaged young man in Sarnath, in India. Deepak was found, suffering badly from malnutrition and deafness. He has shown promise as a percussionist, and the dream is that with training he may make his own way as a tabla player. There is a Tasmanian connection; read more here.
Programme:
Il Bianco e Dolce Cigno – Jacques Arcadelt (c1507-1568)
Lady, When I behold the Roses (from Madrigals 1598) – John Wilbye (1574-1638)
Help I Fall – Thomas Morley (c1558-1602)
O Magnum Mysterium – Morten Johannes Lauridsen (1943-)
Java Jive – Ben Oakland (1907-1979) – Milton Drake (1912 -2006)
When I Fall in Love – Edward Heyman (1907-1981) – Victor Young (1900-1956) (arr. Wayne Senior)
Ain't Misbehavin' – Andy Razaf (1895-1973) – Thomas Wright 'Fats' Waller (1904-1943) – Harry Brooks (1895-1970)
--------- Set by Can Belto ---------
O, Let me Live! – Thomas Tomkins (1572-1656)
Lo Compra Amore
I'm Beginning to See the Light – Edward Kennedy 'Duke' Ellington (1899-1974) – Don R. George (1909-1987) – John Cornelius Hodges (1907-1970) – Harry Haag James (1916 -1983)
Here is the Little Door – Herbert Norman Howells (1892-1983) – Frances Chesterton (1869-1938)
Coventry Carol – trad. English carol (arr. Martin Shaw)
--------- end of set ---------
The Huron Carol – Saint Jean de Brébeuf (1593-1649)
Have Yourself a Merry Little Christmas – Hugh Martin (1914-2011) – Ralph Blane (1914 -1995) (arr. Peter Gritton)
Sunday 27 November 2011, 3pm
Kettering Community Hall
Tickets available at the door
$7.50
Stay for the post-concert afternoon tea, meet and chat with the musicians.

---