| | |
| --- | --- |
| | Kettering Concerts |
Kettering Concert 2008-05-04
Geoff Rayner
Geoff Rayner (guitar)
Great Guitar!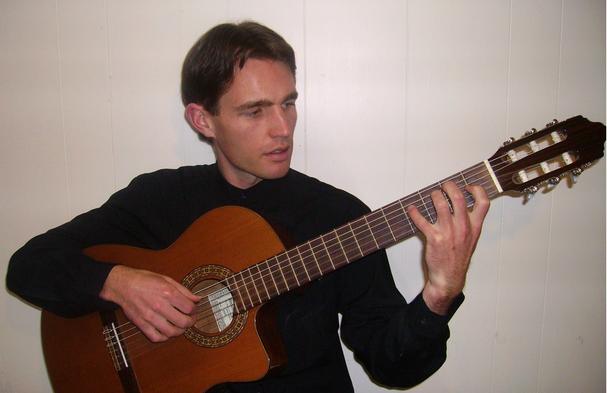 Programme:
Prelude No. 1 in E minor – Heitor Villa-Lobos (1887-1959)
Andante, Andantino, Allegretto – Ferdinando Carulli (1770-1841)
Spanish Dance no 5 – Andaluza – Enrique Granados (1867-1916)
Asturias – Isaac Albéniz (1860-1909)
Romanza – anonymous
Chaconne from Partita for Violin No. 2 in D minor, BWV 1004 – Johann Sebastian Bach (1685-1750)
Rock of Ages – Richard Redhead (1820-1901) (arr. Geoff Rayner)
How Sweet the Name of Jesus Sounds – Gordon Archbold Slater (1896-1979) (arr. Geoff Rayner)
Easter Song – Annie Herring (1945-) (arr. Geoff Rayner)
Chime Out – Geoff Rayner (1982-)
Recuerdos de la Alhambra – Francisco Tárrega (1852-1909)
Sunday 4 May 2008, 3pm
Kettering Community Hall
Tickets available at the door
$5
Stay for the post-concert afternoon tea, meet and chat with the musicians.

Geoff Rayner
Geoff was born in 1982 and began playing the guitar at age 9 as one of a class of eighteen students at Lindisfarne North Primary School. One of the highlights of his early musical career was playing at age 12 in front of an audience of 800 at Taroona High School. Through his teenage years, Geoff was drawn to a typical range of acoustic guitar styles, and soon learnt to play Eric Clapton's Unplugged album note-for-note. At age 13 he won a two-year scholarship to study classical guitar with David Malone, who would also become his teacher in his last two years at the Tasmanian Conservatorium of Music. During his time as a Taroona High School and Hobart College student, Geoff formed several jazz and funk bands, and went on to study the electric guitar at 'The Con' with Graham Brown in 2000. At age 18, Geoff performed Asturias for the first time, and it features in today's programme. In 2003, Geoff completed an Honours project on the electric fingerstyle master, Tuck Andress. He has played for dignitaries including Governors and Mayors, and Ambassadors of France and the US. He currently teaches guitar at several schools and from home, and has played at weddings and other functions around Hobart. He acknowledges John Williams as one of his major influences, having been given one of Williams' guitar cassettes for his 11th birthday. In his teens, Geoff also bought many of Tommy Emmanuel's albums, saw him perform live five times, and currently plays many of his pieces.


---